Are you ready to transform your hair? Hair extensions provide a unique way for individuals to make dramatic changes in their appearance. With the right techniques and tools, it is possible to achieve stunning results that are sure to turn heads.
This comprehensive guide will teach you everything you need to know about the art of hair extensions, from selecting the perfect type for your look and properly placing them, to ensuring long-lasting wear. Whether youre seeking a subtle change or something more dramatic, this guide has all the information necessary for creating beautiful transformations with hair extensions!
Preparing for a Hair Extension Application
When it comes to preparing for a hair extension application, there are several steps that one should take to ensure a successful and beautiful transformation. First, you'll want to determine the exact length of your desired look.
This will help inform you how many extensions you will need as well as the type of attachment method that is best suited for your specific hairstyle. Next, make sure all tools and products necessary for attaching the extensions are available and ready to go before starting the process; this includes clippers, brushes, combs, glue or tape adhesive (if applicable), any special styling products needed post-application like hairspray or shine serum, etc.
Having everything on hand before beginning ensures an efficient application with minimal interruption from having to run out mid-way through! Thirdly–and perhaps most importantly–make sure that you have enough time allotted for performing the job correctly. Hair extensions can be very time-consuming if done properly so allowing yourself plenty of extra time will not only reduce stress but also increase your chances of achieving excellent results! Finally remember: practice makes perfect! With each application you perform, your technique is likely going to improve; thus making future applications even smoother than before!
Applying and Removing Hair Extensions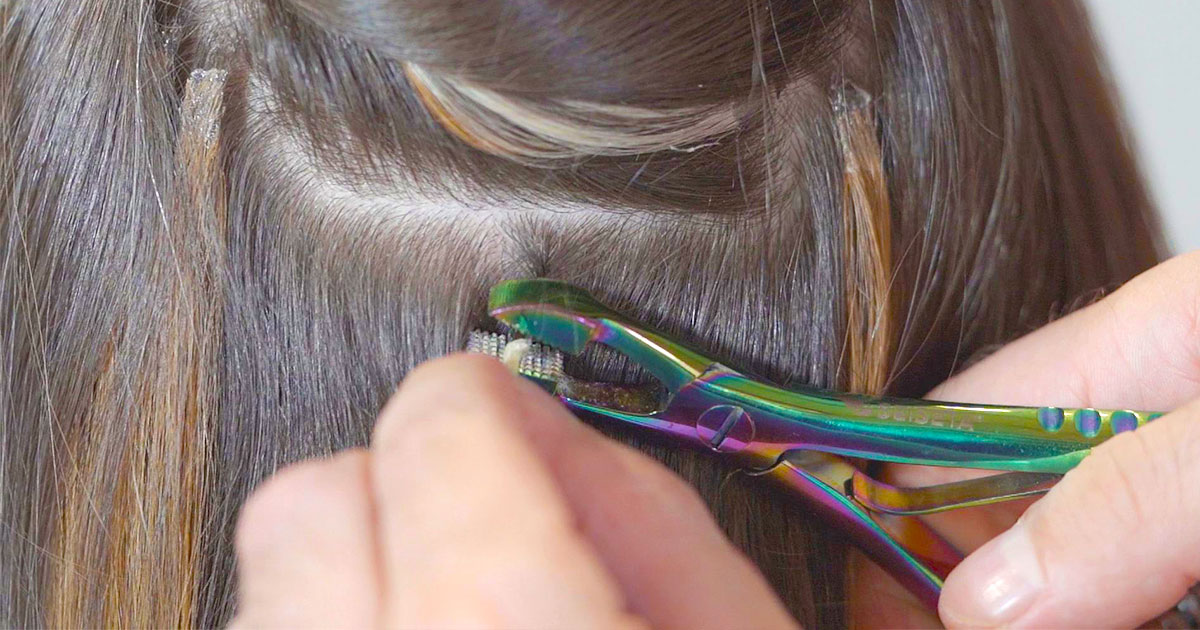 Applying and removing hair extensions can be a daunting task for those who are unfamiliar with the process. However, once you learn the basics of extension application and removal, it becomes easier to take on this project with confidence.
To begin, we recommend consulting a professional stylist for their advice on the best type of extensions that will suit your desired hairstyle needs as well as which techniques may work best for you. Once you have decided on extensions suitable for your hair type and style goal, applying them is relatively straightforward: use clips or beads to attach small sections of natural hair to artificial strands. It's important to note that if applied correctly, these bonds should not cause damage to either your real or fake locks! When it comes time to remove them, start by gently brushing through any knots before soaking them in warm water mixed with shampoo until they become loose enough that they can be removed without damaging your hair.
With practice and patience, you'll soon feel comfortable mastering the art of applying and removing hair extensions!
Caring for Your Hair Extensions Properly
Caring for your hair extensions is an important part of achieving beautiful and long-lasting transformations. To get the most out of your extensions, you should make sure to follow a few simple steps.
First, wash your hair with a shampoo specifically designed for human hair extensions or synthetic wig care products. This will help keep it clean and free from bacteria that can lead to damage or tangling.
Next, condition your hair regularly using protein-based products that are designed to provide moisture and nourishment without weighing down the strands. For best results, use an air dryer on low heat settings after washing and conditioning so as not to further damage the extension bonds.
Finally, be sure to brush and detangle gently starting at the tips and first going up towards the roots to prevent breakage or pulling away from the scalp area – this goes double if you have natural curls! By following these simple guidelines you'll be able to enjoy stunning hairstyles created by your hair extensions for years!
Creative Ways to Style with Hair Extensions
Creating stunning hair transformations with hair extensions is no easy feat, but it can be done! With the right techniques and a bit of creativity, you can style your hair in ways you never thought possible. Here are some creative ways to make use of hair extensions: 1.
Get dramatic length with clip-in extensions: Clip-in extensions allow for an instant transformation without any commitment – simply attach them when you want and remove them when youre done! For maximum impact, opt for longer lengths that give your look an extra oomph. 2.
Mix it up with layers: Layers create movement and interest in your hairstyle – perfect if you're looking to add texture and body. Add multiple different types of extension pieces at varying lengths for the ultimate layering effect.
3. Try out new colors: Colorful highlights or all-over color? Go wild by choosing bright shades that stand out against your natural hue – just make sure they match well so that everything looks seamlessly put together! 4.
Twists, curls & braids: From intricate French braids to beachy waves, there are lots of fun styles available thanks to hair extensions! Experiment with different textures and shapes until you find something that works best for your look – don't be afraid to get creative here as the possibilities are endless!
Conclusion
Read more about how hair extensions are a great way to achieve stunning hair transformations. Whether youre looking for additional length, volume, or texture, there are plenty of options available to give your hairstyle the perfect finishing touch.
With so many different types of hair extensions and techniques out there, it's important to do your research to find the best option for you. Taking the time to properly care for and maintain your hair extensions will also ensure that they look beautiful with every wear.
With the right knowledge and products, anyone can enjoy beautiful hair transformations using artful styling with hair extensions!