What makes a story compelling is the skill and artistry of the storyteller, even more so than the story itself. Of course, when both of these components are present the result is greatness; an appropriate description of Phantom and the director leading this film, the extraordinary Joshua Powell. Based on Gaston Leroux's classic novel "Phantom of the Opera", The Phantom is a Psychological Horror/Thriller period piece. Executive produced by the two-time Oscar nominee John Watson and financed by six-time Emmy winner John Wells, Phantom has an ample amount of creative fire power both behind-the-scenes and on-screen with talent that includes Ashley Long, Jeremy Glazer (of
Primetime Emmy Award–winning series Modern Family and Primetime Emmy Award–nominated series The Good Fight), and Hansel Ramirez (of International Emmy Award–nominated series El Presidente). Mr. Powell proves with this film that he is an exceptional director with a deep insight in sculpting a film (Powell also wrote the screenplay for Jack and Lou: A Gangster Love Story starring Linda Hamilton and Sebastiano Pigazzi).
Phantom differs vastly from the classic story and film which is so well-known. These changes are creative and immensely satisfying. Set in mid-twentieth century LA, there is a thread of feminism that finds its way into this version of the tale. Christine Daae is a young socialite who casts off her family's influence in deference to her own aspirations of performing on the stage. Through her journey, she is in contact with three pivotal men: Luther (a mysterious maestro), Raul (a returning soldier who becomes a romantic interest), and The Phantom (a man who is suspiciously overly invested in her career).
These men can be seen as supportive or controlling depending on the context. What the director of this film has presented in a subtle and magnificent way can be compared to the films of Jordan Peele which offers both a drama/horror theme and an underlying social one as well.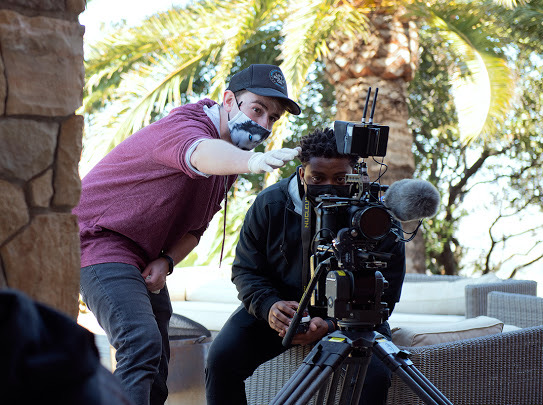 Regarding this approach in his discussions with EP John Watson, Mr. Powell confirms, "We agreed that we wanted the film's overall tone to be significantly darker than the 2004 movie version. We wanted to explore themes of love, obsession, toxicity, possessiveness, and greed, as combined with a supernatural element to give a new and engaging twist on the classic tale. Without giving too much away, I can think of one scene which encapsulates this.
Christine rejects Raul's proposal and he reacts angrily and irrationally to this, to the point of physically grabbing her, causing Christine to push him away. Little does he know, she's doing it to save his life from the Phantom. Aside from concern for Christine, we wanted to convey a sense of disappointment. Disappointment that Raul, the wealthy, handsome suitor is not the hero he appears to be, and that Christine really will be facing her struggles alone. It also portrays Christine as a heroine who solves her own problems."
There's an abundance of drama and tension in Phantom. It possesses all of the aesthetics and action one wants from the supernatural elements found in this story. The resurrection of spirits, hand-to-hand combat, lethal weapons, and an all-consuming inferno are all elements of this film.
These are the counterbalance to the romantic moments and self-actualization which Christine experiences. As the leader of this production, Joshua Powell notes, "I'm so pleased with the way our film looks and it comes from the many talented artists on our team. I was always mindful of safety.
You're always aware that there is a schedule that is important but with licensed SFX practitioners, a professional armourer, and a police officer on set, we took all precautions and rehearsed as much as possible. The time pressure of the schedule forced me to adapt certain shots but it all came out very well and everyone was safe." Powell adds, "It's an amazing thing to step onto a soundstage and see ideas manifested into reality. This is something I never take for granted; the privilege of filmmaking."